Macular Degeneration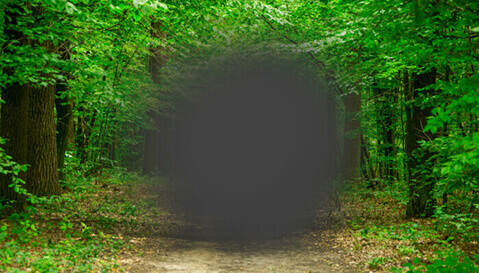 Age-related Macular Degeneration (ARMD or AMD) is a disease of the central retina, which is called the macula. ARMD is the most common cause for vision loss of those 65 and older. ARMD is more common in Caucasians, people with history of smoking and people with a family history of ARMD. This degenerative eye disease is typically caused by damage or deterioration of the central area of the retina.
What are the symptoms of ARMD?
Most people with early signs of macular degeneration either have no symptoms at all or very subtle symptoms, such as slight blurring or distortion. Once it advances, ARMD often results in blurry vision or loss of the central vision and may also be accompanied by wavy or distorted vision. Peripheral vision is usually preserved in most patients.
It is very important to have regular eye exams, and to immediately seek an eye evaluation if you notice something wrong with your vision or if you have a family member with ARMD.
---
The two types of ARMD:
Dry ARMD is characterized by slowly progressive central vision loss, usually over many years. Small degenerative spots called "drusen" can be seen on examination by your eye care provider. There is no cure for Dry ARMD, but taking a special formulation of vitamins and minerals (AREDS-2) has been shown to decrease the rate of progression of vision loss in some patients.
Wet ARMD is characterized by abnormal blood vessels growing in the back of the eye that cause blood or fluid to leak, ultimately leading to tissue damage. Wet ARMD has relatively quick progression of central vision loss over the course of weeks to months. Most patient see a central distortion of vision that causes lines to be wavy or bowed out. Most wet ARMD develops from dry ARMD.
Macular Degeneration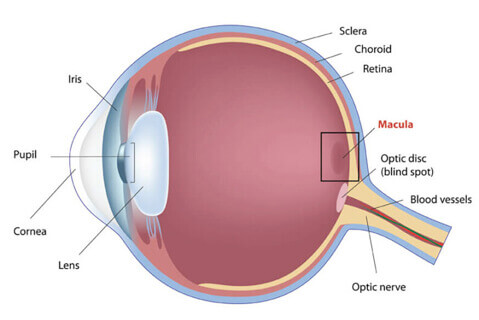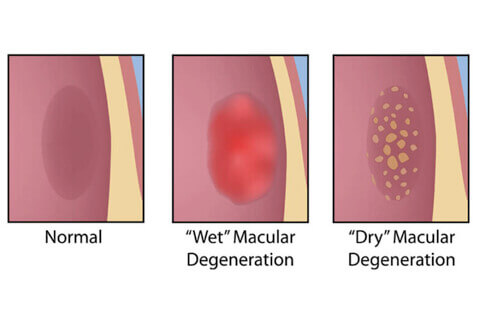 Patients can monitor for the change from dry to wet ARMD by looking for distortion/wavy lines on a special graph paper called an Amsler grid. Often the tissue damage caused by wet ARMD cannot be reversed, but quick treatment with injections of medicine can improve vision and slow the progression of vision loss. If you notice changes in your vision, get to an eye care provider as soon as possible–the longer you wait, the more permanent the damage.
---
Is there any treatment for ARMD?
There is no cure for ARMD, but here are some tips that may slow the progression of the disease or lower your risk of getting it:
Do not smoke
Live a healthy lifestyle with a good diet and regular exercise
Keep blood pressure and cholesterol under control
Eat leafy green vegetables
Take AREDS-2 vitamins if recommended by your eye provider
Get regular exams
Use the Amsler grid as directed (Amsler grid printable). if wet ARMD is caught early, more vision can be saved!
Smoking
A final note, smoking is by far the worst preventable risk factor for the progression of ARMD. If you are having trouble stopping your smoking habit, please check out material on quitting and speak to your primary care provider about help with quitting.
Diet recommendations
Eat a healthy diet that includes zinc, folic acid, selenium, and vitamins A, C, and E. Some examples of foods are leafy green vegetables, fish, peaches, plums, berries, melons, tomatoes, carrots, and citrus fruits.
---
Contact Cascadia Eye
If you would like to learn more, or if you would like to schedule an appointment at Cascadia Eye, please contact us today. We are happy to answer any questions you might have!
In addition, join us on Facebook, Instagram or YouTube to ask your questions about eyes, exams, and our practice. We'd love to hear from you – and there might be a blog to address your questions in the future.