Promotions and Specials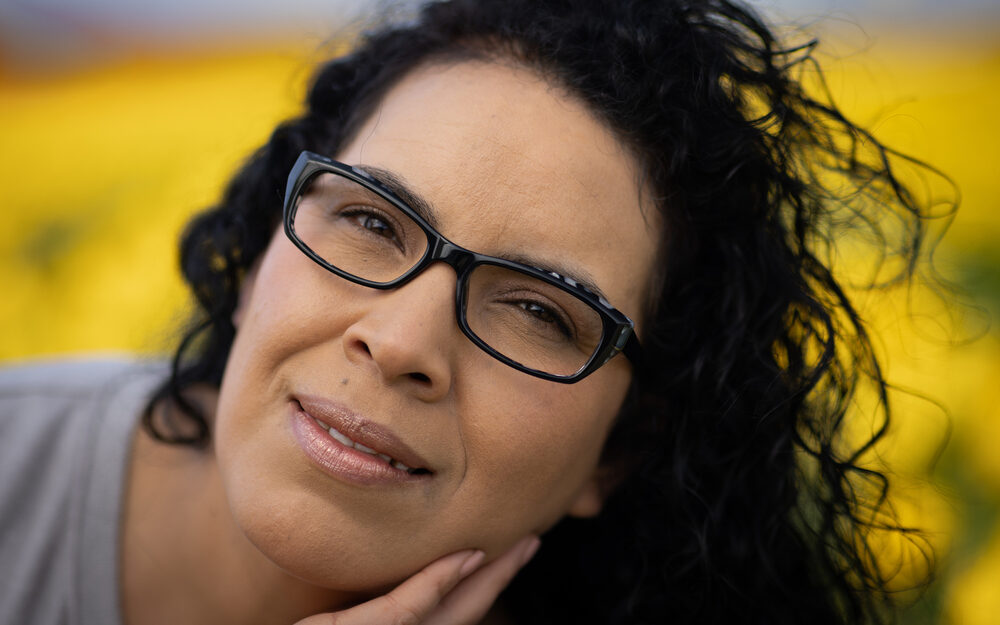 Check Out The Latest and Ongoing Promotions Here!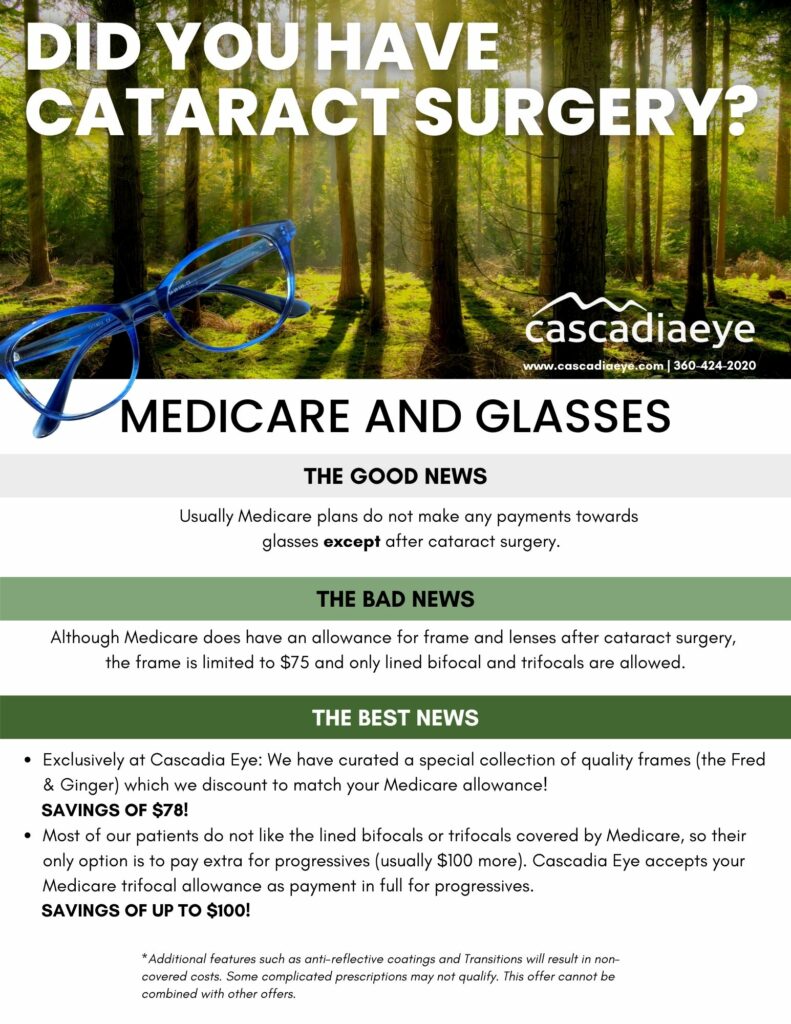 Medicare and Glasses
THE GOOD NEWS: Usually Medicare plans do not make any payments towards glasses except after cataract surgery.
THE BAD NEWS: Although Medicare does have an allowance for frame and lenses after cataract surgery, the frame is limited to $75 and only lined bifocal and trifocals are allowed.
THE BEST NEWS: Exclusively at Cascadia Eye: We have curated a special collection of quality frames (the Fred & Ginger) which we discount to match your Medicare allowance! SAVINGS OF $78!
Most of our patients do not like the lined bifocals or trifocals covered by Medicare, so their only option is to pay extra for progressives (usually $100 more). Cascadia Eye accepts your Medicare trifocal allowance as payment in full for progressives. SAVINGS OF UP TO $100!
*Additional features such as anti-reflective coatings and Transitions will result in non-covered costs. Some complicated prescriptions may not qualify. This offer cannot be combined with other offers.
Want to have a better selection of frames?
Cascadia Eye has opted out of the Washington State eyewear program. Instead, we offer our own public service eyewear plan called "Cascadia Cares".
Cascadia Cares* gives patients a much better selection, higher quality, and more stylish frames with single vision, bifocal or progressive lenses (which the state plan doesn't offer). Since we are able to process these at our own local lens center, patients can find better eyewear much, much faster, offered at a crazy-low charge of $60 per pair.
* Some complicated prescriptions might not qualify. This offer cannot be combined with other offers. Only those who can prove eligibility for the state plan qualify for the Cascadia Cares plan.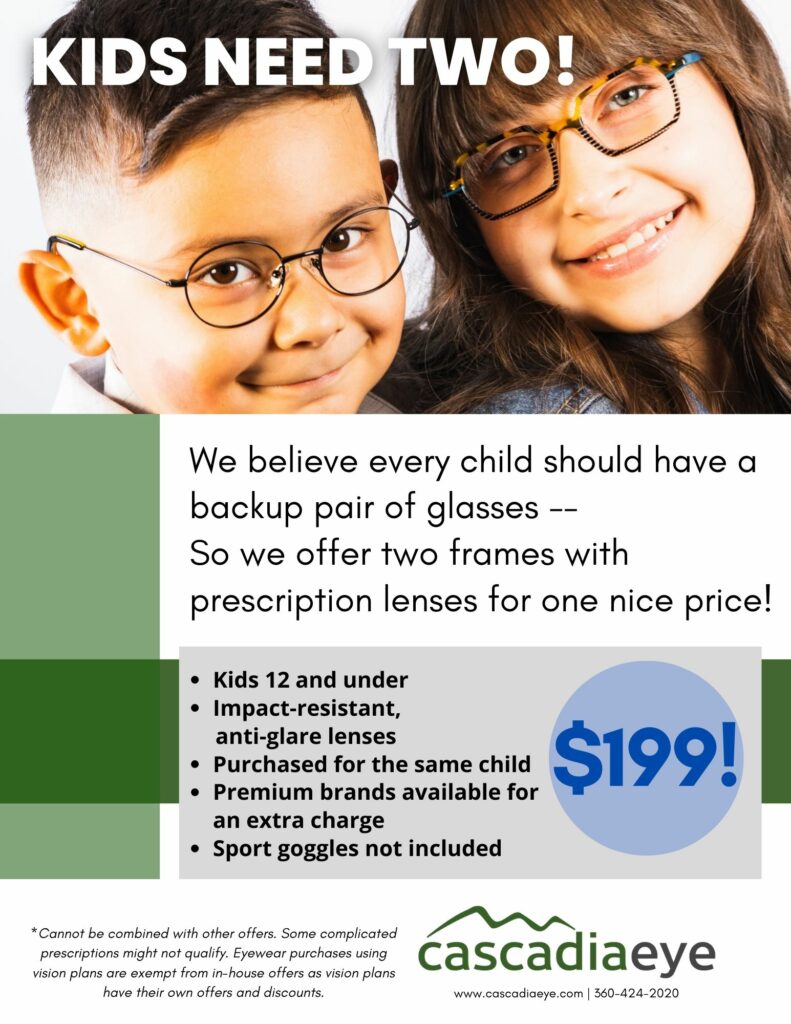 Kids Need Two!
We believe every child should have a backup pair of glasses — So we offer two frames with prescription lenses for one nice price!
Kids 12 and under
Impact-resistant, anti-glare lenses
Purchased for the same child
Premium brands available for an extra charge
Sport goggles not included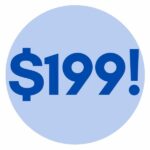 *Cannot be combined with other offers. Some complicated prescriptions might not qualify. Eyewear purchases using vision plans are exempt from in-house offers as vision plans have their own offers and discounts.
More Promotions and Discounts:
Military Discount: 10% off your optical order.
Vision Plan Exception: For patients with vision plans we do not bill/accept, Cascadia Eye offers a 20% discount on eyewear.
Luxottica Insurance: Because we value independent businesses and do not support mega-corporations who monopolize the eyewear market and charge too much for eyewear, Cascadia Eye is not on the insurance panel owned by Luxottica. Instead, we offer 20% off Cascadia Eyewear optical products to patients who have that particular vision plan.
Please check back! We often offer specialty seasonal sales.
---
Contact Cascadia Eye
If you would like to learn more, or if you would like to schedule an appointment at Cascadia Eye, please contact us today. We are happy to answer any questions you might have!
In addition, join us on Facebook, Instagram or YouTube to ask your questions about eyes, exams, and our practice. We'd love to hear from you – and there might be a blog to address your questions in the future.