Pediatric Eye Care in Bellingham, Mount Vernon, Whidbey, Stanwood & Sedro Woolley
Your child's eyes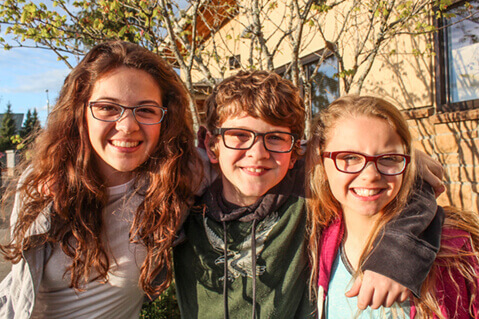 As children develop and grow, their eyesight helps them to learn and understand the world around them. As they mature, you will notice an improvement in hand-eye coordination and comprehension skills. You can aid this process for babies and young children through simple games and activities that allow them to make cognitive connections between what they see and what they know, such as colors, shapes, and animals. Providing them with a balanced, nutritious diet while encouraging other healthy habits can also help to keep their eyes strong.
As they grow older, staying on top of your child's eye care directly impacts healthy physical and cognitive development. Healthy vision is necessary for children in order to develop critical functions such as reading comprehension, hand-eye coordination, and making connections between objects and words. Make your child's sight a regular part of their medical care, so they – and you – can fully enjoy life together.
---
Importance of early detection
In most cases, eye problems can be identified and treated even in the earliest days of life. Most children will have healthy eye development as they grow, but some serious eye diseases and disorders may not always be obvious to the parents. Because of this, infants should be checked by their pediatrician to monitor eye health in their first year, especially if they are considered at risk for vision problems.
If any issues are present, an examination should be scheduled right away to know whether medical eye care is needed or not. Another indicator of the need for early screenings is genetics. If you or members of your family have a history of eye disease or if they needed to wear glasses at a young age, it is a good idea to have your child examined at an earlier age, as they are at a higher risk of developing vision problems.
Issues not detected and treated before age five can cause a child's eye condition to be so serious that he or she could experience severe vision loss or blindness. This is why our eye care professionals strongly encourage parents to get their child's eyes checked by a pediatrician or eye doctor at the first sign of any problem.
---
When to schedule eye examinations
If there are no signs of any vision problems, all children should have at least one eye examination before they reach age five. However, if any issues are present, an examination should be scheduled right away to know whether medical eye care is needed or not.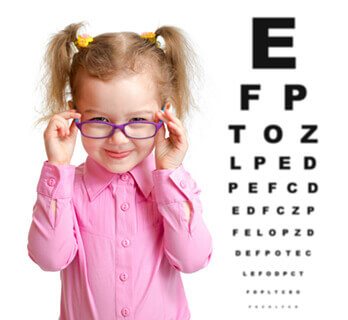 You should schedule an appointment for your child if you notice:
Frequent rubbing of the eye
Squinting
Poor hand-eye coordination
Constant headaches
Extreme sensitivity to light
Abnormalities such as a white pupil
Chronic redness or tearing of the eyes
As your children enter school, they will continue to require regular check-ups to monitor their vision. Poor vision can lead to difficulties in school, and it is common for teachers to alert parents if there are concerns about a child's ability to see. If any vision problems are identified after a thorough exam, your child may need to wear glasses or contacts. Annual exams are necessary after an initial prescription is given in order to monitor any changes in eyesight.
If treatment or glasses are indicated, we fully stock all of the necessary "accessories" to include various eye patches, press-on prisms, and DVDs for vergence exercises as well as a large selection of fun and functional children's eyewear (most with 3 year warranties).
Learn more about pediatric terms and conditions at the American Association for Pediatric Ophthalmology and Strabismus (AAPOS) website:

---
Recent blog posts
---
Contact Cascadia Eye
If you would like to learn more, or if you would like to schedule an appointment at Cascadia Eye, please contact us today. We are happy to answer any questions you might have!
In addition, join us on Facebook, Instagram or YouTube to ask your questions about eyes, exams, and our practice. We'd love to hear from you – and there might be a blog to address your questions in the future.