Contact Lenses in Bellingham, Mount Vernon, Whidbey, Stanwood & Sedro Woolley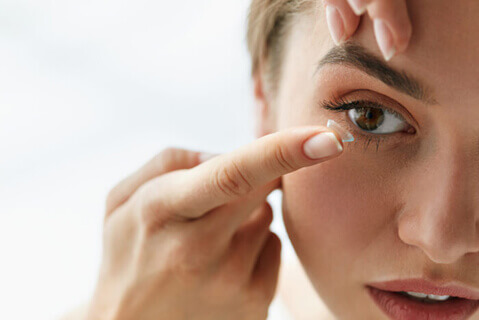 Here at Cascadia Eye, our contact lens specialists and staff are pleased to offer comprehensive contact lens services. We offer our patients the newest lens technology and design for soft, toric, multifocal, gas permeable, scleral, and hybrid contact lenses. If you think you simply can't wear contacts, ask us if we can help.
How do I get contacts?
At Cascadia Eye, we perform a contact lens fitting before prescribing contacts to ensure you are in the best contact lens possible. Following your complete eye exam we will take measurements of your eye to determine which contact lenses will work best for you. You will be provided a "trial" pair of lenses to wear for a week or two. You will return to the clinic to meet with a medical professional who can determine if the fit is correct for you.
You may need to return for re-evaluation several times if the trial lens is not providing good vision and comfort. If your eye looks healthy, you see well and the lenses fit appropriately, we will order your final contact lenses for you or provide you with a contact lens prescription to fill at the retailer that is most convenient for you.
---
Lens types
Some of these conditions require rigid, gas permeable (GP) lenses. Due to the irregular shape and curvature of the front surface of the cornea in patients with conditions such as keratoconus, glasses or conventional soft lenses may not be able to correct vision. However, with advances in technology over the past few years, our patients with irregular corneas now have many options to correct their vision, including the following:
Gas permeable (GP) contact lenses: The rigid lens creates an even surface and the tear film fills in underneath the lens, masking irregularities in the cornea. This is the traditional, and most common, way to correct vision problems with keratoconus and other corneal irregularities.
Hybrid contact lenses: These lenses are a hybrid of soft and rigid lenses. They consist of a rigid lens surrounded by a soft lens periphery, or "skirt." This provides the excellent optics and vision of a hard lens, while the soft "skirt" provides increased comfort.
Scleral contact lenses: These large diameter lenses rest on the sclera (the white part of the eye), completely vaulting over the cornea. The large size can be intimidating, but once inserted these lenses often have superior comfort when compared to traditional gas permeable lenses. The edges of the lens are tucked up underneath the eyelids so there is no rubbing on the cornea, which decreases lens awareness. They do not fall out and dust cannot get underneath them, also increasing comfort.
---
Specialty fitting process
It is extremely important to have a contact lens that fits the cornea properly to ensure good corneal health. For this reason, an average of four to five visits are required to complete a specialty fitting process. After a specialty contact lens fitting is complete, it is not uncommon to follow up with your doctor twice a year until your corneal condition is stable.
We specialize in fitting more challenging eyes. There are many conditions that can make it difficult to fit contact lenses, including the following:
Keratoconus
Post corneal transplant
Post LASIK ectasia
Dry eyes
Presbyopia (this causes a need for reading glasses as we age)
We have a cornea specialist on staff if treatment beyond contact lenses is required for your corneal condition. If you have any questions or think you may be a candidate for a specialty contact lens, please contact our office for more information.
We are members of VSP, Group Health, and many other plans and are happy to bill your insurance should you have a contact lens benefit. For your convenience, you can pick up your contact lens order at any of our locations.
---
Contact Cascadia Eye
If you would like to learn more, or if you would like to schedule an appointment at Cascadia Eye, please contact us today. We are happy to answer any questions you might have!
In addition, join us on Facebook, Instagram or YouTube to ask your questions about eyes, exams, and our practice. We'd love to hear from you – and there might be a blog to address your questions in the future.