Vision Exams in Bellingham, Mount Vernon, Whidbey, Stanwood & Sedro Woolley
What is a wellness vision exam?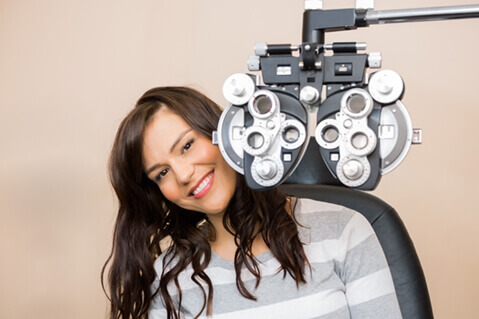 Wellness vision exams are for patients with generally healthy eyes who need yearly updates to their prescription, and include screenings for any eye diseases that might require a separate medical visit. A wellness vision check includes a refraction, which measures your visual acuity and determines if you need a new or updated prescription for glasses or contact lenses.
If you want to update your glasses or contact lens prescription, and do not have a medical eye condition that requires monitoring, be sure to tell our patient services staff that you want a wellness vision exam when you schedule your next visit. For this kind of visit, we will expect to bill your vision insurance, which could be Davis Vision, VSP, or NBN. (Some medical insurances, such as Kaiser, may also include a wellness vision exam in their coverage.) We advise you to check your current insurance to determine what kind of vision coverage you might have.
Note: if, during your wellness vision exam, your doctor finds a medical condition or eye disease that requires treatment, you will likely need to have a new medical appointment scheduled to address this problem with the appropriate specialist and/or specialized testing.
---
You may need more than a wellness vision exam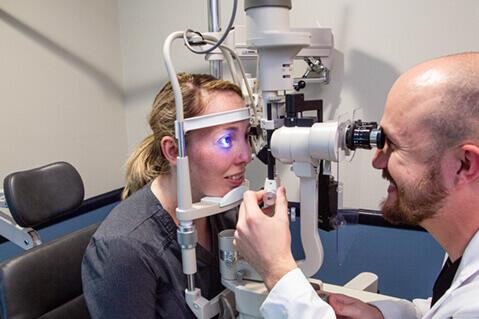 Medical eye exams, which include our Comprehensive Eye Exams, are for the diagnosis and treatment of medical eye conditions and diseases, such as cataracts, glaucoma, dry eye disease, macular degeneration, diabetic eye exams, and others. They are covered by your medical insurance rather than vision insurance. If you have a medical eye problem that needs evaluation or follow-up, let our schedulers know to book a medical eye exam. We will expect to bill your medical insurance, and if you need a referral in advance, please contact your insurance to make sure one is in place before your appointment.
We do advise that you contact your insurance company to determine if you have separate vision coverage, and if so, what type. Insurance is constantly changing, and your insurance company will be able to best answer questions about your coverage. You can also ask your human resource department for help in determining if you have two separate insurances–one for medical, and one for visual–as sometimes that is not always clear at first glance. Knowing your insurance types and coverage in advance of your appointment is highly recommended!
---
Contact Cascadia Eye
If you would like to learn more, or if you would like to schedule an appointment or consultation with our talented doctors at Cascadia Eye, please contact us today or use our online scheduler. Our entire team is committed to protecting and improving your vision and the health of your eyes. We are happy to answer any questions you might have!
In addition, join us on Facebook, Instagram or YouTube to ask your questions about eyes, exams, and our practice. We'd love to hear from you – and there might be a blog to address your questions in the future.