Refractive Lens Exchange (RLE)
Understanding RLE

Dependent on glasses? Don't be. Refractive Lens Exchange (RLE) is a form of refractive surgery that gives patients better vision and freedom from dependence on glasses or contact lenses. Your surgeon will replace your natural lens with an artificial lens implant to provide better focus for near, middle, and far distances. It is very similar to cataract surgery, but it is done specifically to correct refractive errors (where the eye itself is too long, too short, and/or presbyopic) rather than to remove a cataract.
RLE aids both with nearsightedness (myopia) and farsightedness (hyperopia). Thus, many patients enjoy good distance vision after a refractive lens exchange with little to no glasses prescription or contact lens use. However, some may still need reading glasses for near-distance work. The goal is to decrease or eliminate your dependence on glasses or contact lenses.
What is Refractive Lens Exchange Surgery?
During surgery, our experienced ophthalmologist (eye surgeon) gently removes the lens and puts in a new, artificial lens called an intraocular lens, or IOL. The IOL remains in the eye permanently. RLE surgery will not correct other causes of decreased vision, such as glaucoma, diabetes, or age-related macular degeneration.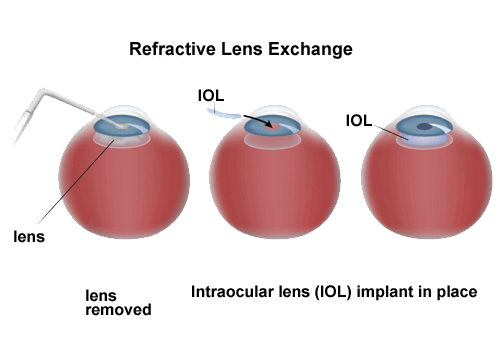 ---
Candidates
RLE is generally reserved for patients who are in their 50s or 60s, don't have cataracts, and have trouble with both near and far vision. Generally LASIK or PRK procedures aren't the best option for these patients.
Are you a candidate for RLE?
---
Posterior Capsulotomy and YAG Procedure
Sometimes post-surgery patients who have had an RLE procedure will develop a posterior capsulotomy, or clouding on the membrane surrounding the implanted lens. This results in glare sensitivity and blurred vision. If this is the case for you, the clouding can be easily removed with a quick laser "YAG" procedure, by making a tiny opening in the membrane for light to pass through.
---
Contact Cascadia Eye
If you would like to learn more, or if you would like to schedule an appointment at Cascadia Eye, please contact us today. We are happy to answer any questions you might have!
In addition, join us on Facebook, Instagram or YouTube to ask your questions about eyes, exams, and our practice. We'd love to hear from you – and there might be a blog to address your questions in the future.