Diabetes and the Importance of Having a Proper Eye Evaluation
Posted in Diabetic Retinopathy, Eye Blog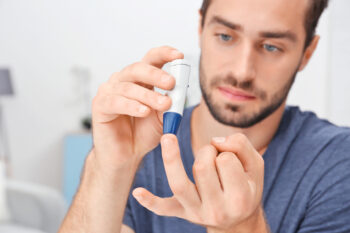 Diabetes increases your risk for a variety of serious health ailments, including heart disease, high blood pressure, and stroke. Another concern that often gets overlooked is the effects that diabetes can have on our eyes. If you have diabetes, you are dramatically more susceptible to vision-stealing eye diseases that can even cause complete blindness.
The good news is that with proper treatment, high-quality vision can usually be maintained. That's why the knowledgeable eye doctors at Cascadia Eye stress the need for routine comprehensive eye examinations for all patients who have diabetes. Some of the conditions our tests can identify include:
Diabetic Retinopathy
Diabetic retinopathy is a condition that slowly harms the blood vessels that transport blood to the retina at the back of the eye. If not enough blood reaches the retina, your eye will try to create new blood vessels to complete this task, but generally these new vessels are faulty and leaky. Blood that leaks into the eyes can cause vision loss and eventually blindness.
Damage to the optic nerve is most common when your blood sugar spikes, so your best option for avoiding diabetic retinopathy is to manage your diabetes with medication. Diabetic retinopathy can also be treated with laser procedures or anti-VEGF injections to mitigate potential harm.
Glaucoma
When you have diabetes, you are two times as likely to develop glaucoma. Glaucoma occurs when pressure accumulates in the eye, gradually damaging the optic nerve. Unfortunately, most patients do not realize they are experiencing glaucoma until a significant amount of vision has been irreversibly lost.
However, glaucoma can be detected with an eye evaluation long before you recognize it yourself. Caught in its' early stages, an eye doctor can start treatment (including eye drops and laser procedures) to relieve the optic pressure. 
Cataracts
Diabetes similarly elevates your risk for cataracts. Cataracts are clumps of proteins on your lens that make it more difficult for light to enter your eye to enable sight. This makes your vision appear hazier. Research suggests that diabetes' tendency to damage blood vessels in the eye is why cataract formation is more likely. Luckily, cataracts are easy to detect with an eye test. Cataract surgery is an easy, highly effective treatment for replacing the natural lens with an intraocular lens and restoring clear vision.
Schedule a Comprehensive Eye Exam
To reiterate, the key to maintaining quality vision despite a diabetes diagnosis is to have your eyes evaluated by an optometrist or ophthalmologist on a regular basis. The talented physicians at Cascadia Eye are eager to confirm that your eyes are in good shape and offer the appropriate treatments should an examination reveal a condition.
Contact Cascadia Eye
If you would like to learn more, or if you would like to schedule an appointment or consultation with our talented doctors at Cascadia Eye, please contact us today or use our online scheduler. Our entire team is committed to protecting and improving your vision and the health of your eyes. We are happy to answer any questions you might have!
In addition, join us on Facebook, Instagram or YouTube to ask your questions about eyes, exams, and our practice. We'd love to hear from you – and there might be a blog to address your questions in the future.
---