Eye safety part 1: Sports safety
Posted in Bellingham, Eye Blog, Medical, Mount Vernon, Pediatrics, Sedro-Woolley, Stanwood, Whidbey
When you or your kids are involved in sports or other physical activities, it can mean higher risks for you or your child's eyes. Here are some tips recommended by AAO (American Academy of Ophthalmology) for ensuring no one needs to come see us for anything other than their annual eye exam.
The number one protection tip: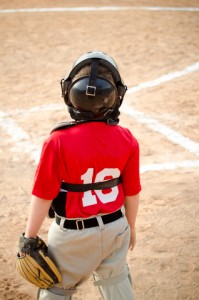 Use protective eyewear.
According to AAO:
"More than 90 percent of all eye injuries can be prevented through use of suitable protective eyewear.

Sports deserve particular attention, because eye injuries occur fairly often in children and young adult athletes: between the ages of five and 14, most sports-related injuries in the U.S. occur while playing baseball."
I know, I know. A kid is not going to want to wear "goggles" to a baseball game. Most people don't – and the results speak for themselves. In the Eye Injury Snapshot, an annual survey conducted by the American Academy of Ophthalmology and the American Society of Ocular Trauma, more than 78% of the responders who had experienced an injury were not wearing eyewear at the time – and of those who were, only 5.3% had safety or sports glasses.
Organizations like the above are working hard to increase awareness and make safety eyewear a more common practice, because it's such an easy way to prevent unnecessary injury. My* own sister got hit in the eye with a baseball when she was young, and it was almost considered to be a commonplace part of growing up…but why should it be? Even in the cases where the damage isn't permanent, why not save a trip to the doctor in the first place? For your kids, wearing sports glasses is the easiest way to protect their eyes during high-risk activities like baseball.
Trust me – here at Cascadia Eye, we really don't want to have to see you or your children for preventable eye injuries!
Contact Cascadia Eye
If you would like to learn more, or if you would like to schedule an appointment at Cascadia Eye, please contact us today. We are happy to answer any questions you might have!
Join us on Facebook or Twitter to ask your questions about eyes, exams, and our practice. We'd love to hear from you–and there might be a blog to address your questions in the future.
*By Alex Brandt
---