PRK
Photorefractive Keratectomy (PRK)

Patients interested in improving their vision and reducing their need for glasses and contacts may not always be good candidates for LASIK surgery. Fortunately, our team of experienced ophthalmologists at Cascadia Eye provides a variety of laser eye surgery alternatives that can produce excellent vision correction results.
Photorefractive Keratectomy, more commonly known as PRK, is a refractive surgery technique designed to reshape the cornea and enhance your ability to focus clearly without the aid of corrective eyewear. During this state-of-the-art procedure, our eye surgeons will use precision laser technology to customize your treatment based on your specific vision needs. If you are not a candidate for LASIK, PRK surgery can be another excellent option to help you safely and effectively achieve your overall vision goals.
---
Am I a candidate?
PRK surgery has a number of benefits, including the ability to treat corneas that are too thin to be treated with LASIK surgery. The procedure does not require a corneal flap during refractive surgery. Additionally, the PRK procedure is relatively quick and can greatly reduce or even eliminate your need for glasses or contact lenses.
Ideal candidates for PRK include:
Patients who are nearsighted, slightly farsighted, and/or have astigmatism
Patients who have a thin cornea and do not qualify for LASIK surgery
Patients who are 18 or older, or have had a stable prescription for 2+ years, and are in otherwise good health
Patients who have no current eye diseases
Patients who wish to reduce or eliminate their dependence on glasses or contact lenses
During your initial consultation, our trained eye surgeons will help you determine if PRK is the most effective laser vision correction procedure based on your specific needs.
---
The PRK procedure
PRK is typically performed in our dedicated surgery center as an outpatient procedure. Prior to your procedure, a topical anesthetic will be applied through eye drops to relieve any discomfort you may experience. Our eye surgeons will then use a computer-guided laser system to map the contour of your cornea, and then reshape it with precision laser energy to allow for the highest degree of clear vision possible. The entire procedure generally takes about 10 minutes to complete.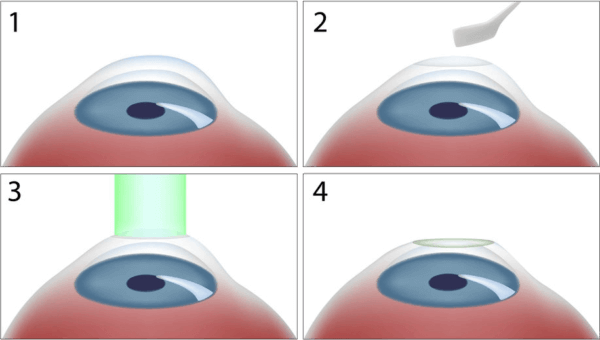 ---
Recovery from PRK
Following your PRK procedure, we will provide eye bandages and soft contact lenses to aid the healing process. You can expect to experience some blurriness, itchiness, and mild irritation in the days following your procedure, but these symptoms can be eased with prescription eye drops and should go away relatively quickly. Most patients notice a dramatic improvement in vision within one week of their PRK procedure.
At Cascadia Eye, we offer personalized and compassionate care from laser eye surgeons who have a proven record of success. We commit ourselves to helping you see the world through a clearer lens, without heavy reliance on glasses or contacts!
For more information on PRK, or to find out if you are a good candidate for this laser vision correction procedure, please contact Cascadia Eye today. Our knowledgeable and friendly staff will answer any of your questions and help you schedule a private consultation with one of our experienced ophthalmologists.
---
Patient resources
---
Contact Cascadia Eye
If you would like to learn more, or if you would like to schedule an appointment at Cascadia Eye, please contact us today. We are happy to answer any questions you might have!
In addition, join us on Facebook, Instagram or YouTube to ask your questions about eyes, exams, and our practice. We'd love to hear from you – and there might be a blog to address your questions in the future.