Buying glasses online: seven claims debunked
Posted in Bellingham, Eye Blog, Eye-Opening, Eyeglasses, Mount Vernon, Optical, Sedro-Woolley, Stanwood, Whidbey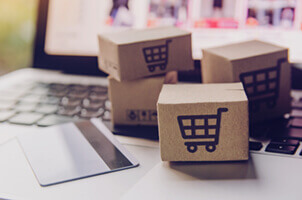 We came across an online "article" with the headline: "These guys are putting glasses stores out of business." It wasn't actually a news article, it was an advertisement by a well-known online eyewear retailer. As you can imagine, our CEO (and licensed optician) Sheri, had a few things to say in response.
But not just because this online retailer claimed to be putting glasses stores out of business–it was because the advertisement made a lot of claims that were, in fact, untrue.
In fact, it told readers that they should buy glasses online, and listed the reasons why.
The problem is, as eye care professionals, we know that's not actually good for your eyes. We've tested it out ourselves, and absolutely believe that–unless you are young, have healthy eyes and a very low prescription–you need a professional to be able to assess your needs, take measurements, make adjustments, and do all of the finely-detailed things to bring you the exact prescription you need for your sight. There's a whole profession dedicated to just this, and an online store simply can't measure up.
So in response, Sheri and I have taken each claim from the advertisement and done some in-depth debunking.
Claim #1: Save up to 70% off Retail on prescription glasses online
Leading online stores cut out the middleman so you pay less
FALSE–The claim that online stores cut out the middleman, taking the frames from the factory to your home so you can get frames for under $150, may be true for the "leading" online glasses retailers. But claiming that they are the only way to save money, or the only stores that "cut out the middleman," is incorrect. Because that is what Cascadia Eye does! We have expanded even further, going direct to manufacturers (even visiting their factories) and designing even more of our own frames from scratch.
Sheri says:
"We also cut out the middleman, but we offer hands-on service, fitting, expert measurements, and adjustments after the sale to our customers/patients–and our average price on Cascadia Eyewear frames is closer to $100."
Claim #2: Bigger frame selection–your favorite brand, shape, or style
Leading online retailers can showcase over 3,000 frames on a single site
MISLEADING–Using big numbers like 3,000 frames makes it seem like the styles they showcase aren't often just minor variations on the same theme. Sheri says, "Even as an expert in eyewear, after about 20-30 little thumbnail pictures of frames, they all look the same to me."
Even more importantly, the disadvantage of thumbnail pictures is that you can't try them on. And the disadvantage to having a huge frame selection comes in the form of decision fatigue–too many options–and not knowing what is actually just right for you when all you have to go on is a picture. And "try on" apps that superimpose glasses over a photo of your face won't accurately represent the real effect.
Sheri says:
"The only way to get good eyewear that looks great on you and actually fits is to try them on! Even when people come into the stores and browse our boards, it takes an optician to pick frames off the board and encourage you to try them on. In fact, a large percentage of our patients/customers who choose a frame for themselves from the board don't end up ultimately buying that frame–it is usually one chosen by a trained stylist, someone who knows how the bridges will fit, how the shape will work, and the correct size for each face.

"It is just roulette when you pick from the 'thousands of styles and brands' they offer on their websites. That said, at our stores we usually have between 400-700 frames to choose from—and we have 6 stores. I think any more than that would be a negative, not a positive."
​Claim #3: No Sales Commission with online retailers
Online sites don't try to "force" a sale on you. Retail store salesmen do.
FALSE–Let's state right up-front that Cascadia Eye opticians do not make sales commissions, and in fact are encouraged to not up-sell patient and customers on special features they wouldn't actually need. But this advertisement also says something else that is untrue for Cascadia Eye: it claims that 60%+ of eye doctor's income comes from glasses sales. Speaking for ourselves, at Cascadia Eye our doctors offer routine eye exams and treat patients medically. They perform surgery, treat injury, and see people with chronic illnesses such as glaucoma and diabetes.
Sheri says,
"If we make even 25% of our money from glasses sales, that is an outstanding number for us. For the online glasses store to even mention that eye doctors make any percentage from eyeglass sales seems downright hypocritical–they make 100% of theirs from online sales. And with ads after ads online and untrue 'headlines,' no less."
Now, it may be that those hard-hitting quota sales people are out there, but Sheri says you're more likely to find them in the 'mega corporation' (Luxottica owned) stores such as Sunglass huts, Lenscrafters, and so on.
And as a reminder, the above mentioned "mega corporation" is one that we have written about in this article, and has also been exposed by this entertaining and informative web show. We highly encourage watching the video and then reading our blog about it.
​Claim #4: Top Quality Glasses: Designer frames, high-grade materials
It's simple. Reputable online retailers get their frames and lenses at the same place that brick-and-mortar stores do.​
FALSE–Even if this is true for most brick-and-mortar stores (but not Cascadia Eye–more on that in a second), how does this give an online retailer an advantage? Cascadia Eye already established that by going independent ourselves, we don't mark up our prices any more than the online retailers, so there is no advantage to buying online.
And what's more, we can do one better. Per Sheri, "Here at Cascadia Eye, we go a step further and even design our own–so, no, online retailers, you do not have access to our frames!"
And she'd like to leave you with one more thought: "Have you noticed that they have to use the word 'reputable' before they say 'online retailers?' That should tell you something."
Claim #5: You Can Try On Glasses using an online "Virtual Mirror"
Find your perfect fit from the comfort of your own home.
FALSE–All right, as a millennial I really understand the appeal of shopping without leaving the house. If I could get away with buying everything online, I would! But finding a "perfect fit" for glasses by virtually trying on the frames via a "take a picture" app is not possible. It is nothing like trying frames on–I know, I've tried it out myself.
Sheri goes so far as to call it "laughable," and suggests actually trying them on instead (see #2, where we go in detail as to why).
​Claim #6: Great Customer Service available 24/7 pre and post-order
Eyeglasses stores have closing times. Online retailers are always open.
MISLEADING–The online retailer claims that because they are open 24/7, they can provide all-hours customer service. But let's define "great customer service," shall we? Are they meaning someone who can answer retail questions and solve problems regarding online shopping, or the kind of customer service that comes from an optical center?
Here's how Cascadia Eye defines it: most of our eyewear customers need our service to take their measurements for their eyewear, properly adjust their eyewear, and help them select the best frames for comfort and style–and, importantly, to work the best with their prescription.
Sheri says:
"Online retailers often send you to brick-and-mortar stores like ours to do what we call "showrooming"—meaning using our store and our services (hopefully for free) and then ordering online. So yes, if they have any great customer service—their customers are getting it from us! But you don't have to…if you are coming to our optical center anyway, you can get your eyewear at a better price and with true customer service."
​
Claim #7: Risk-Free Everything 100% refund, no questions asked!
The top online retailers provide a simple & secure checkout process, free shipping & returns, and a 100% money-back-guarantee.​
MISLEADING–Again, this is a case of positioning themselves as if online retailers are the only ones who offer basic services like warranties. Of course Cascadia Eye offers warranties!
In fact, Sheri says:
"Most on-line stores either charge you a fee for a warranty, or make you hassle with sending back the product, and then you have to find a brick-and-mortar store (like us) to help you re-mount or re-insert your lenses. The online guarantees are cheap imitations of the real thing."
​Conclusion: Don't buy glasses online. Your local independent retailer really is your best option.
It's safe to say we don't think putting local eyewear retailers out of business is a good idea. It is a myth we are happy to debunk.
We do have one disclaimer to offer–we are only speaking for ourselves at Cascadia Eye, because we know we have made every effort to cut out the middle-man, offer superlative service, and go independent of the big corporations.
But we are doing what we can to fix that. Here's Sheri again:
"We know that not all eye doctor's offices do get their eyewear direct (and choose to pass on the savings) as we do here at Cascadia Eye. It does take a lot of research, extra work and acceptance of risk. Small offices do not have the resources to offer this, and their eyewear is more expensive because the 'mega corportaion' charges them so much for their product. To help with this problem, we offer the smaller stores access to frames at great wholesale price so they can do what we're doing (www.cascadiaeyewear.com). Hopefully they will join the independence revolution as well!

"We, at Cascadia Eye, are local, independent and have chosen to use our growth and size to offer our neighbors product at great prices while maintaining the hands-on services you want and need!"
by Alex Brandt
---