The Value of a Professional Optician Evaluate and Fit Eyewear Rather Than Purchasing Glasses Online
Posted in Eye Blog, Eyeglasses, Optical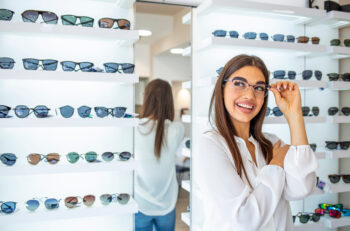 Online shopping has become a normal part of life for many Americans, but not everything should be purchased from the Internet. When it comes to procuring prescription eyewear, you will have a much better experience and outcome when you visit an optical center. The opticians at Cascadia Eye, with five locations in Northwest Washington State, share why you should always buy glasses from a trusted, in-person eyecare center. 
Accurate Vision Correction
Prescription lenses are designed to correct your vision, but they can only succeed at that mission if they sit at the correct distance from your eyes. Unfortunately, when you purchase online your frames may position your lenses too close or too far from your pupils. When you buy glasses from Cascadia Eye, our opticians take highly detailed measurements of your pupillary distance (PD) to ensure that your frames fit comfortably and that you have peak visual clarity. This can help prevent migraines, eye strain, or double vision.
The Ability to Try on Your Glasses
A pair of frames might look attractive or interesting in a picture, but that does not always translate to them looking great on your face. The way to know for sure whether they flatter your appearance is to try them on. Unfortunately, most online retailers do not allow you to try on glasses or return glasses that do not suit you. Those companies that do give you an opportunity to try on frames end up drawing the process out with the constant shipping back and forth to find the right frames. In an optical center, you can try on dozens of options until you find the perfect frames.
Quality Products
For some online spectacle retailers, the main selling point is the inexpensive price point. Unfortunately, the way to offer frames so cheaply is usually with shoddy materials. At Cascadia Eye, we only offer quality frames from reputable brands that will hold up for the long term. We feature both affordable and luxury frames so that you can find a great option no matter what your budget is.
Take Advantage of Professional, Personalized Care
Online optical shops are not generally staffed by professional opticians, which means they cannot answer your questions or offer advice like our team of experts. Online retailers are also not able to offer amazing customer service. Our personal mission is to ensure that all our customers are enthusiastic about their new eyewear, which is why we go above and beyond to make every interaction we have a great one.
To see for yourself why customers love and trust Cascadia Eye's optical center, come visit our offices in Mount Vernon, Sedro-Woolley, Stanwood, Whidbey, and Bellingham, WA.
---
---