Scratchy, Sore Eyes? It may be Blepharitis.
Posted in Dry Eyes, Eye Blog, Eye Exam, Eye-Opening, Fluctuating Vision, Medical, Mount Vernon, Sedro-Woolley, Stanwood
by Andrew Sumnicht, MD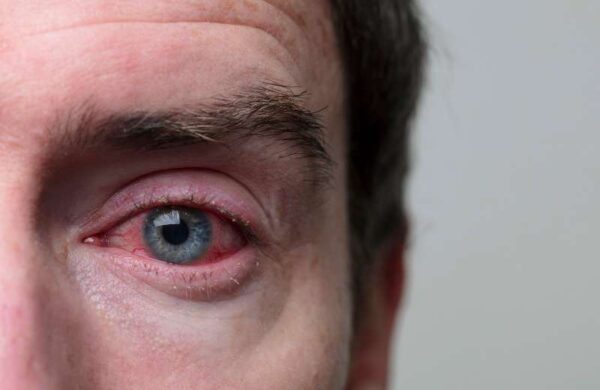 What is Blepharitis?
Blepharitis (bleff – ah – write – iss) is a very common condition seen in the eye clinic, with findings present in up to half of all eye patients, and with symptoms affecting up to 10% of the general population.
There are oil glands that line your upper and lower eyelids near the base of your eyelashes which become inflamed, causing symptoms. This is caused by either dysfunction of the oil glands, toxins released by bacteria that live on your skin, skin mites, a dysfunctional tear film, or a combination of these factors.
What symptoms are caused by blepharitis?
It can be hard to tell why you have certain symptoms, as symptoms of blepharitis overlap with dry eye and allergic conjunctivitis. For this reason, the treatment of all three conditions can be similar. Patients with blepharitis may note one or many of symptoms including: eyes crusting or matting shut, yellow discharge, itching, "foreign body sensation" (feels like something is poking my eye), irritation, eyelid puffiness/swelling, eyelid tenderness, tearing, or redness. Sometimes, if one gland becomes inflamed to the point of being unable to drain normally, you may get a stye (also known as a chalazion or hordeolum). Sometimes there is a concern that there may be a skin infection beginning. Your eye doctor will check your eyes and identify what is causing your symptoms.
What are treatments for blepharitis?
Blepharitis is a long-term condition which can also have sudden flare-ups. In order to control your symptoms, your doctor will typically recommend to stick to a regular schedule of warm compresses over the eyelids between 1-4 times daily for 10 minutes at a time along with an eyelid cleansing routine one of many commercial eyelid wipes 1-2 times daily. Warm compresses can be done with a wet washcloth, a microwaved clean sock full of rice, or a microwave-safe gel pack from a local pharmacy. Eye-safe tea tree oil products or prescription antibiotic ointment have been shown to be particularly useful in cases where skin mites are involved. Your doctor may recommend the use of oral omega-3 supplements to help improve oil gland function, over-the-counter drops for itching, artificial tears, or other daily remedies to control symptoms. For overlapping dry eye symptoms, your doctor will discuss the various treatment options available for dry eye.
If there is an acute flare-up, your doctor may prescribe a short course of steroid eye drops to help decrease inflammation, but you will need to continue the daily practice of maintaining eyelid hygiene and warm compresses in order to reduce repeat episodes.
In severe cases where these treatments offer minimal relief, or in patients who continue to get multiple styes, it is recommended to consider treatment with the iLux which can be performed at all of our Cascadia Eye locations. Your doctor also may recommend a several-month course of antibiotics by mouth which have been shown to decrease oil production, which can then decrease the amount of dysfunction in your oil glands.
Should I be concerned?
In most cases, blepharitis does not represent a serious issue. As earlier mentioned, uncontrolled blepharitis can lead to eyelid styes and more rarely can lead to a skin infection. Other times, your symptoms may be caused by something completely different. If there is any doubt, it is always your best bet to get your eyes checked by a qualified eyecare provider.
Contact Cascadia Eye
If you would like to learn more, or if you would like to schedule an appointment or consultation with our talented doctors at Cascadia Eye, please contact us today or use our online scheduler. Our entire team is committed to protecting and improving your vision and the health of your eyes. We are happy to answer any questions you might have!
In addition, join us on Facebook, Instagram or YouTube to ask your questions about eyes, exams, and our practice. We'd love to hear from you – and there might be a blog to address your questions in the future.
---