Introducing Eyewitness Missions
Posted in Practice News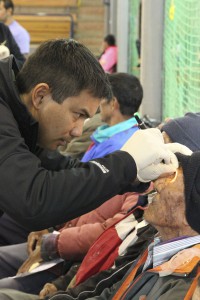 On North Cascade Eye Associates' "Our Commitment" page, we've mentioned Eyewitness Missions, a nonprofit organization started by our own doctors – particularly Dr. Siapco and Dr. Pereira – to treat eyes in impoverished countries. I recently sat down with Wendy Siapco, another founding member, to learn more about the nonprofit and why they decided to create it. Here is what I learned:
Dr. Siapco first "caught the bug" for medical mission work while he was still in residency. He went on a trip with Medical Ministry International to Colombia, and discovered that performing cataract removal without the high-tech equipment available in the States was extremely challenging – a challenge he embraced. Once he learned how to perform this difficult kind of surgery, he decided he didn't want to let that skill go to waste. Especially when the results are truly rewarding.
Here in the USA, cataract surgeries catch the clouding of the lens long before it turns into true blindness. In parts of the world where access is limited, taking out a cataract means actually reversing blindness. In just half an hour of a surgeon's time, someone's life will be completely changed.
On a personal level, Dr. Siapco, Wendy Siapco, and Dr. Pereira believe that their faith motivates and challenges them to be better people, and medical mission work is an extension of that. As Wendy said, "Lots of people go looking for God and decide He doesn't exist when they see all of the terrible things that happen in the world. But we believe that God can be found in people acting as His hands and feet." Wendy notes that everyone becomes more service-minded on these trips, including the doctors lending a hand in prep work and the other non-surgical jobs they wouldn't normally handle.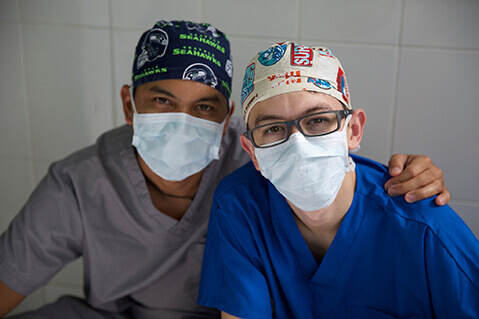 The group that forms the backbone of Eyewitness has been going on medical mission trips since 2007. In addition to providing surgeries, they provide for the optical needs of people who would otherwise be without glasses. (On the most recent mission, glasses were provided to schoolchildren who had never had them before.) This side of operations is headed by Lynn Pugh, our optical Lab Manager, and usually includes additional volunteer opticians from Cascadia Eye.
The decision to become a full-fledged nonprofit happened in 2014, to give the doctors and staff freedom to go wherever and whenever they wanted and still have the support of medical supply companies and other sponsors, without which they would be unable to do their work. In the past, Cascadia Eye's team needed to join up with another nonprofit organization. Now they still have that option, but also have the autonomy that gives them even more flexibility. Moving forward, Eyewitness Missions would love to do increase the medical mission trips performed each year, because the needs are great and giving the gift of vision is an incredible privilege.
Contact Cascade Eye
If you would like more information, or if you would like to schedule an appointment at North Cascade Eye Associates, please contact us today. We are happy to answer any questions you might have!
In addition, join us on Facebook or Twitter to ask your questions about eyes, exams, and our practice. We'd love to hear from you – and There might be a blog to address your questions in the future.
---