C. Dan Siapco, MD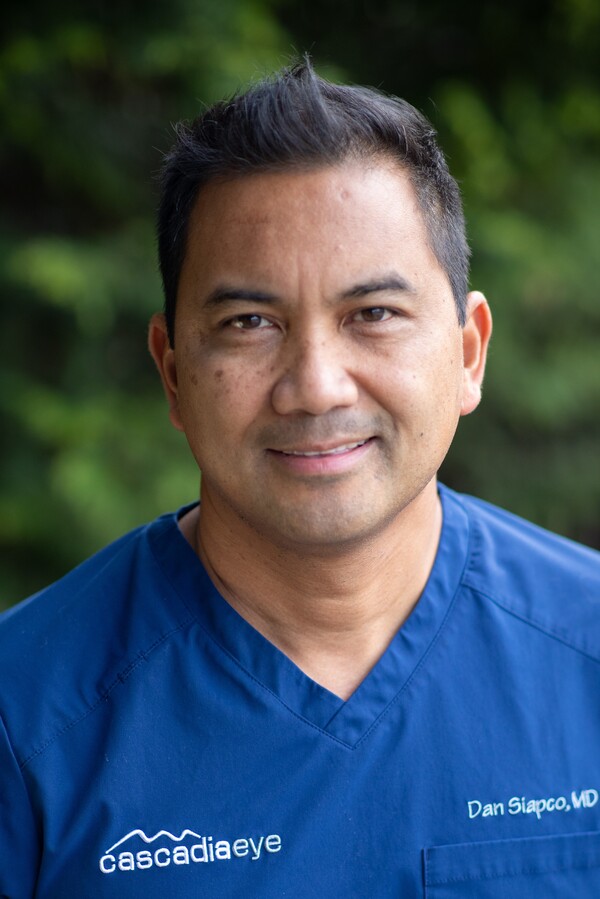 Dr. C. Dan Siapco joined Cascadia Eye in 2003. He rapidly gained a reputation in Skagit Valley as the ophthalmologist to choose for cataract surgery, and won the award from Northwest Business Monthly for "Best Northwest Doctors in Skagit Valley" after only a few short years here. He graduated from Loma Linda University School of Medicine, interned at Sacred Heart Medical Center in Spokane, and did his ophthalmology residency at the University of Pittsburgh. Dr. Siapco is board-certified by the American Board of Ophthalmology.
Dr. Siapco serves as the Medical Director of the Eye Associates Surgery Center and is instrumental in making sure Cascadia Eye always has the best technology available for our patients.
Dr. Siapco has performed well over 12,000 cataract surgeries. He has extensive experience with presbyopia-correcting intraocular lenses and has been implanting them for 18 years. Over this time, he has witnessed many improvements in this exciting technology. Dr. Siapco is available for exams and consultations in our Mount Vernon and Whidbey Island locations and provides surgical and laser procedures in our surgery center in Mount Vernon.
Family and Personal Passions
Dr. Siapco is very active in overseas missions to help eradicate preventable blindness in the developing world. In 2017, he was named "Citizen of the Year" by the Sedro-Woolley Lions Club, whose primary cause is vision and the prevention of blindness. Dr. Siapco has traveled to Central and South America, Asia, and Africa on various medical mission trips. Dr Siapco and his wife Wendy are passionate about helping the underprivileged in the world and their nonprofit, "Eyewitness Missions", has allowed them to assist in restoring sight to hundreds of patients worldwide who otherwise would not have access to cataract surgery. He is an avid musician and has been playing the guitar and writing music for over 30 years. He and his wife have been blessed with two sons, Christian and Asher.
---
Contact Cascadia Eye
If you would like to learn more, or if you would like to schedule an appointment at Cascadia Eye, please contact us today. We are happy to answer any questions you might have!
In addition, join us on Facebook, Instagram or YouTube to ask your questions about eyes, exams, and our practice. We'd love to hear from you – and there might be a blog to address your questions in the future.